Front+Rear Lift Stand with Dolly Wheels For 2006-2016 Triumph Daytona 675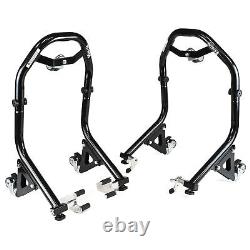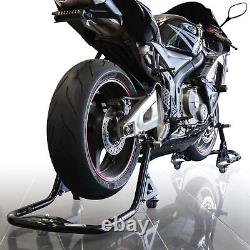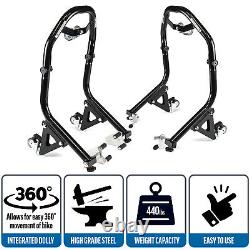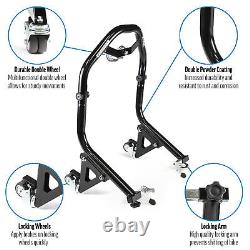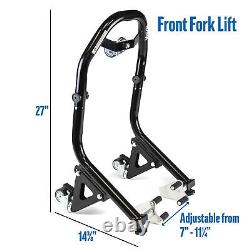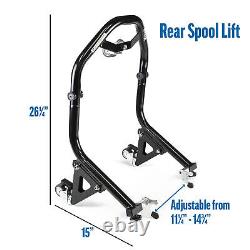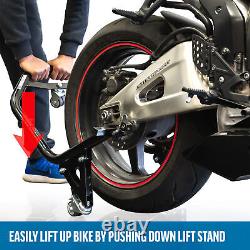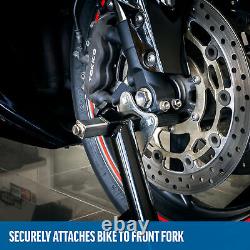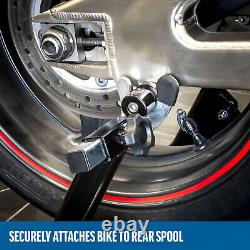 Venom Front and Rear Lift Stand Dolly: The front and rear lift stands allow for easy and safe lifting of the motorcycle for repair, maintenance, and storage. Extra heavy-duty steel construction guarantees long life and durability in all conditions.
The stands are also supplied with three double-wheels (with brakes) for stability and serves as a movable dolly for easy relocation without having to lower the bike. Includes Multi-Directional Double Wheels (with Brakes) for Easy Relocation and 360 Degree Movement. Safe and Easy Lifting of Front and Rear Wheels for Motorcycle Repair, Maintenance, and Storage. Extra Heavy Duty Steel Construction Guarantees Long Life, Strength, and Durability in All Conditions. Front Stand is Supplied with "Under-Fork Rubber Coated" Adapters which Prevents Scratching/Damaging of Forks. Double Powder Coated Finish; Proven Better than Competitors; Resistant to Rust and Corrosion. Universal to Lift Most Sport Bikes (Within the Adjustable Width) - Not Compatible with Single-Sided Swingarms. Front stand is placed under front fork, push down on handle to lift motorcycle. 1x Front Wheel Lift Stand with Fork Lift Attachments. 1x Rear Wheel Lift Stand with Spool Lift Attachments. (Spools Required / Not Included). This product may contain chemicals known to the State of California to cause cancer, birth defects or other reproductive harm. For more information go to P65Warnings. A and are used for reference only. Laws concerning this product vary from state/province to state/province. Your state/province may prohibit its use on public roads or restrict its use to novelty, show use, off-road areas, or race facility areas only.
In some states/provinces off-road uses are also prohibited. Before installing this product, please check your state/provincial and local/municipal laws and regulations.

---