Front & Rear Ceramic Brake Pads & Rotors Kit for 2016-2020 Honda Civic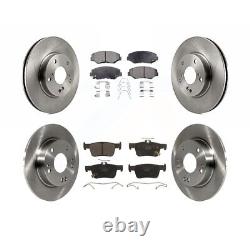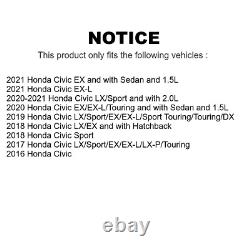 Fits: 2016 - 2020 Honda Civic. TQ Brand Rotors - OEM Style Replacement. Ceramic Brake Pads high-density ceramic formula. Dual-layer rubberized shims reduce noise-causing vibration. 2x Front Coated Disc Brake Rotor (Both Side) + 1x Front Ceramic Brake Pad Set + 2x Rear Coated Disc Brake Rotor (Both Side) + 1x Rear Ceramic Brake Pad Set.
Shockmasters assembled brake kits K8T series combine Top Quality's premium rotors and TEC's ceramic brake pads to create a Front and Rear brake kit that will restore your 2016 - 2020 Honda Civic optimal stopping power. The rotors use a G3000 heat-flow cast which provides consistent wear and quiet operation. Paired with TEC's professional ceramic composite pads that provides quiet performance, reduced brake dust, and extremely reliable in a wide range of temperatures and driving conditions.
Top Quality's premium rotors and drums are crafted using G3000 cast steel to properly balance wear with greater number of aeration vanes for optimal heat dissipation. Top Quality rotors and drums are designed to improve stopping distance, minimize brake fade, and extends both rotor and pad life.
TEC ceramic brake pads are asbestos-free and crafted using unique ceramic composites which offer reduced dust, vibration, and noise. Using a positive mold, TEC ceramic pads are channeled providing superior thermal stability while ensuring consistency and improved braking performance. These days exclude weekends and holidays. Note: Do not dispose of defective parts until instructed.
No reimbursements will be given for delay, labor, mileage, car rental, or any other costs involved in installation or re-installation of any product in question.

---